Service & Rebuild Kits
Your Nail Guns work hard day in day out, revitalise their performance, fix leaks, misfires, skipped nails, etc. by fitting one of our kits*, which include the O-rings, springs and gaskets needed to fix almost ALL service issues. Part of our No-Nonsense and Great Value approach is to make Service and Repair as quick, simple and safe as possible. Select the Service, Rebuild or Driver Kit you need from the table below.
Alternatively we can service your tools for you, you would be surprised how old tools can be given a new lease of life with a little love and some new O-rings!!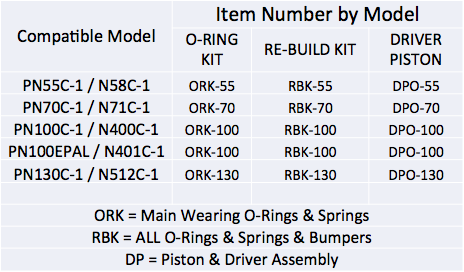 *Only experts or those as a result of experience or professional training, have sufficient knowledge in the field of fastener driving tools and that are able to evaluate correctly the safe condition of said tools, are permitted to conduct repairs or service and must give due regard to the safety, operating and maintenance instruction manual.
When diagnosing problems or servicing take particular care and follow the warnings and guidance in all sections of this operation and safety manual.
Our Kits are compatible with equivalent Bostitch Models, for more information contact for more details.